Odai,
where people live in
harmony with nature
Dense forests, majestic mountains, crystal clear rivers, and spectacular starry skies. Odai is a town surrounded by natural beauty, just two and a half hours from Osaka and Kyoto. Running through the entire area, the Miya River has been chosen as the cleanest river in Japan in each of the last 11 surveys into the water quality of first-class rivers by the Ministry of Land, Infrastructure, Transport and Tourism. It is said to be one of Japan's truly beautiful rivers. In March 2016, the entire area surrounding Odai was added to the UNESCO Eco Park list, as a treasure trove of precious natural resources.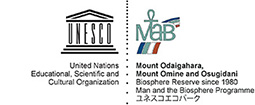 UNESCO launched Biosphere Reserves under UNESCO's Man and the Biosphere (MAB) Programme in 1976. Whereas the aim of world heritage sites is to protect nature and leave it untouched, the purpose of Biosphere Reserves is to reconcile the conservation of biodiversity with its sustainable use (harmonious integration of people and nature for sustainable development). Including Odai, there are only seven designated sites as Biosphere Reserves in Japan as of January 2017.